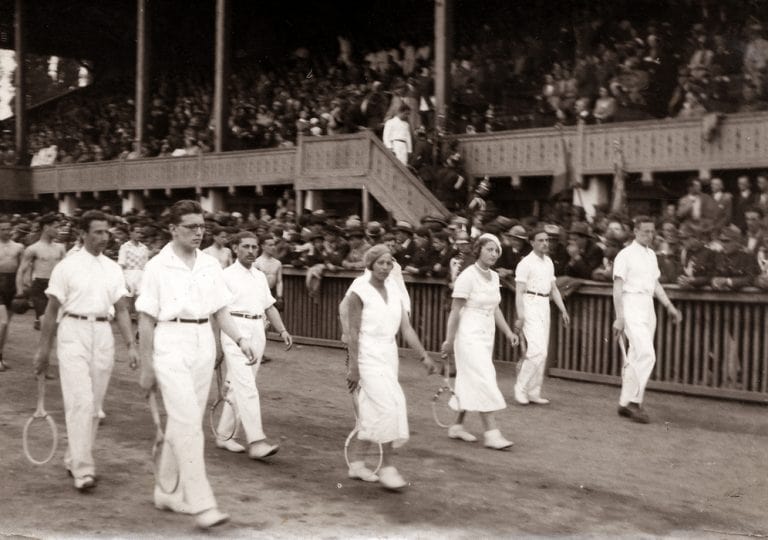 The Haggibbor Sports Club
Sports in Cluj during the interwar period
In interwar Romania, sports gained more and more popularity in urban areas. People living in cities practiced professions which didn't require much physical effort, unlike the inhabitants of rural areas whose main occupation was agriculture. Another factor was the financial status of the townspeople. Since they were working as traders, teachers, clerks or having their own small businesses, they could afford the necessary equipment for practicing sports. Also, in the cities they could attend courses or frequent clubs for training.
Sports became a widespread activity in Romania. One of the most important personalities who contributed to this process was Gyula László. He studied abroad and initially wanted to start an academic career in philology, but then became a sports teacher. In the 1920s and 1930s he worked at the Unitarian High School of Cluj, and as a coach he was part of a national movement which aimed the introduction of daily exercise into everyone's life.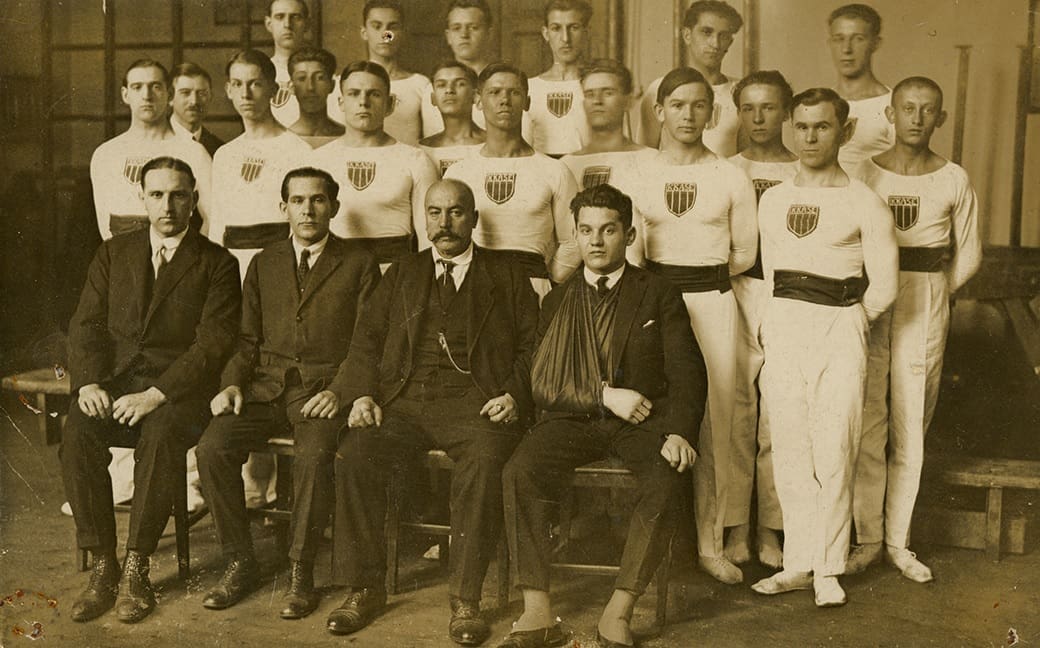 Gyula László (first row, the second person from the right) with the gymnastics team of the Sports Club of Trade Workers, Cluj, 1927. Image: Erdélyi Audiovizuális Archívum (rekollekt.ro).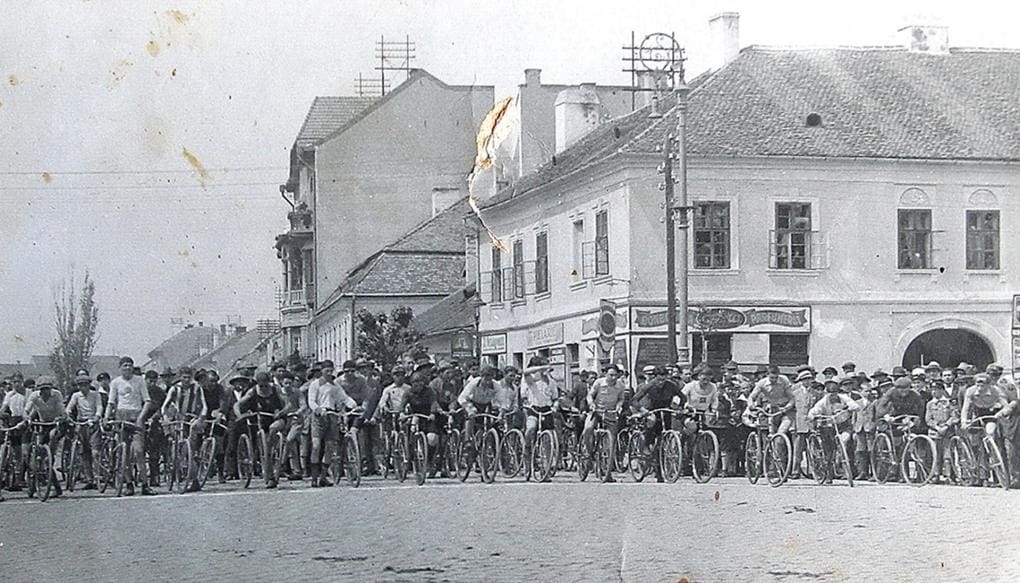 This photo was taken in 1933, and later included in an article about sports in the interwar period in Cluj, published on the website szabadsag.ro. It shows that local people were very receptive towards initiatives to make sports more popular. The image represents a cycling competition for amateurs.
Besides sports practiced as a hobby, in Cluj there were also sports clubs for professional athletes. Such an institution was Kolozsvári Atlétikai Club (Cluj Athletic Club), led by a legendary figure of the city's sports life, István Somodi. Before WWI, he was an athlete himself, and later focused on developing the infrastructure necessary for practicing sports and helped athletes to participate at national competitions.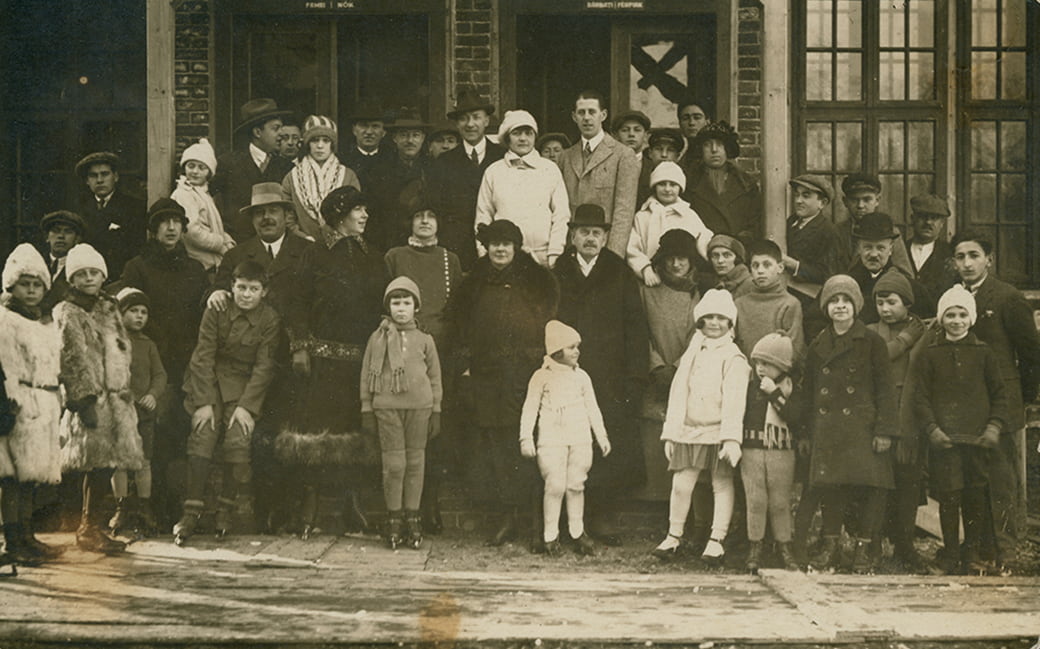 István Somodi (second row in the middle, wearing a black bowler hat) with the members of the Skaters' Club Cluj. One of Somodi's greatest passions was ice skating. In 1921, thanks to his efforts, the Skaters' Club could establish an ice rink close to the city centre, behind the Reformed Church with two towers. Even if it was a small space, many successful skaters trained there. Image: Erdélyi Audiovizuális Archívum, rekollekt.ro.
Skating competitions or football games were not only important for the health and career of professional athletes, but also for the viewers, because they were nice occasions to meet up with other sports lovers or simply to spend time together with friends. Sports clubs organized charity balls in order to raise funds. These parties were highlights of the city's social life.
Establishment of the Haggibbor Sports Club
In a context so favourable for sports, the Haggibbor Sports Club was established in Cluj on the 22nd of March 1920. In Hebrew, haggibbor means strong, brave, heroic. The founders of the club were the writer János Giszkalay, the doctor Bernát Knöpfler, and the lawyer Chaim Weissburg. They were among the eminent promoters of the Zionist movement in Cluj, and this was not a coincidence. Zionism was a movement that aimed the consolidation of Jewish communities all around the globe and the foundation of the State of Israel. The principles of this movement contributed to the establishment of Jewish sports clubs which gradually gained importance in Central and Eastern Europe.
In order to understand the role sports played in the Zionist movement, we have to go back even further in time and take a look at an event from before WWI. In 1898, at the second International Zionist Congress, the doctor Max Nordau highlighted in a lecture the benefits of sports for physical well-being, as well as for the consolidation of Jewish communities and for the education of the youth in the spirit of traditions. The same way in which nowadays the sense of belonging or even the identity of some football fans is related to sports, and many people are proud of their national team's performance at the Olympics, back then it was as well easy to resonate with these ideas. Following Nordau's principles, many Jewish sports clubs were established in Hungary, Slovakia, Bohemia, Moravia, and Austria.
Later, in interwar Transylvania, the Zionist movement coincided with the period when Jewish communities finally were granted some privileges, after hundreds of years of discrimination and even oppression. They wished to express and assert their identity in cultural life, in the arts, in different branches of the economy, and, of course, in sports.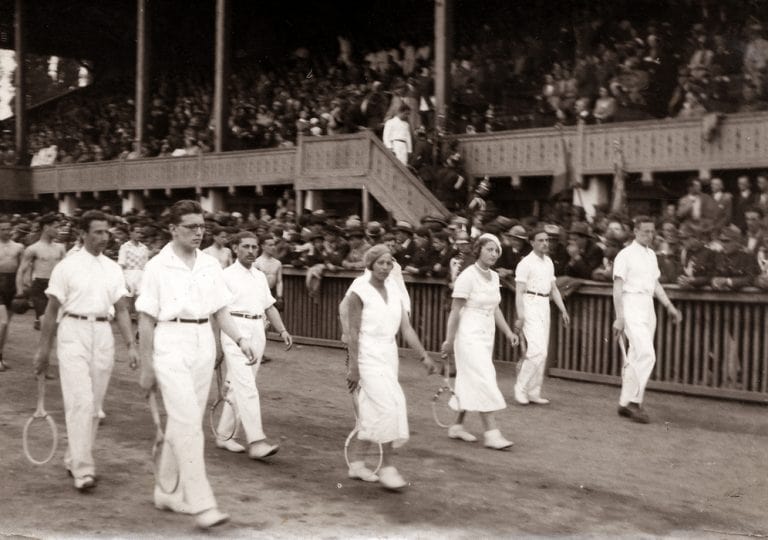 Members of Haggibbor Sports Club at a ceremony in Cluj, 1930. Image: Centropa – Central Europe Center for Research and Documentation.
The Haggibbor Sports Club started with a football team, but in the 1930s, thanks to the dedicated efforts of Vilmos Erős, teams of swimming, water polo, tennis, table tennis, bowling, gymnastics, fencing, skiing, chess, athletics and boxing were established. The club also organised regular hiking tours in the forests around Cluj, which attracted hundreds of participants. A remarkable moment of the tourism team was the cycling tour of Árpád Zádor and Zoltán Berger, who rode to the Tatra mountains and climbed the Lomnica Peak (2634 m), which was an international success, considering the equipment available at that time.
Achievements of Jewish athletes from Cluj
The Haggibbor football team participated in local and regional championships in the 1920s and 1930s. Elemér Hirsch (Kolozsvári Atlétikai Club) and Dezső Jacobi (Haggibbor), Jewish players from Cluj, were selected to play in Romania's national team. One of the football players of Haggibbor is especially important to Muzeon. Dezső Irányi was the owner of a perfume factory in Cluj and a devoted husband and father. His experiences were reconstructed from personal documents and are now included in the Muzeon audio guide, in David's story. If you visit our museum, you can find out what other hobbies he had – you might be surprised by his diverse interests and amazing personality.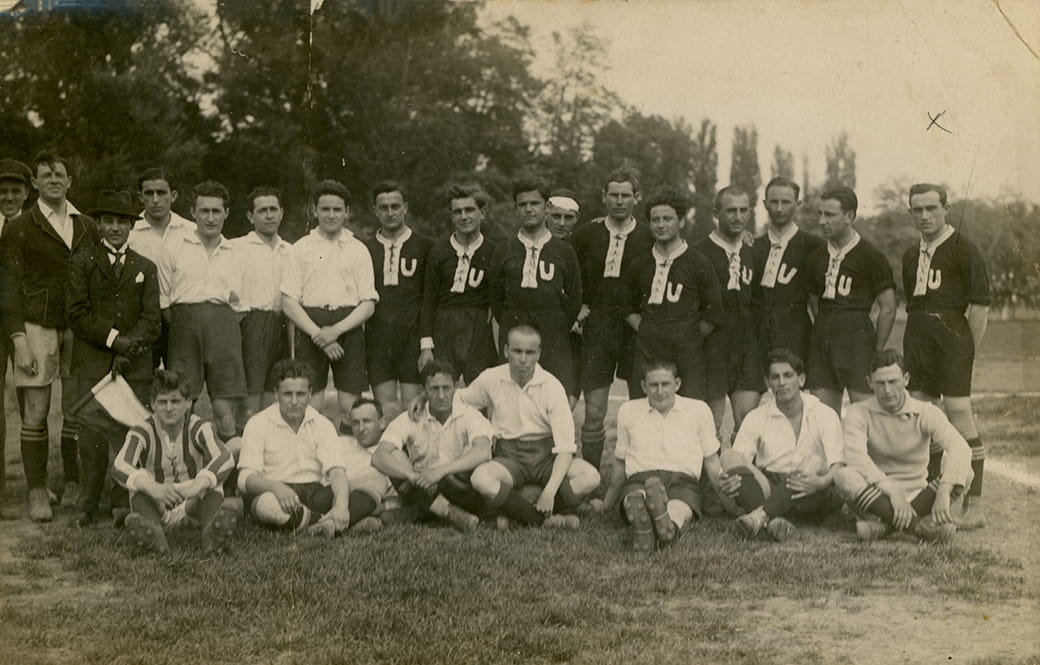 This picture was taken after a football game between Haggibbor and Cluj University in 1922. Image: Erdélyi Audiovizuális Archívum, rekollekt.ro.
Table tennis was the sport in which Haggibbor had the most amazing achievements. Between 1934 and 1937, the players of the club won four national championship titles and were very appreciated. Jewish table tennis players from Cluj, Farkas Paneth, Vasile Marin Goldberger, and Erwin Diamantstein were selected to represent Romania at the World Championship in Prague.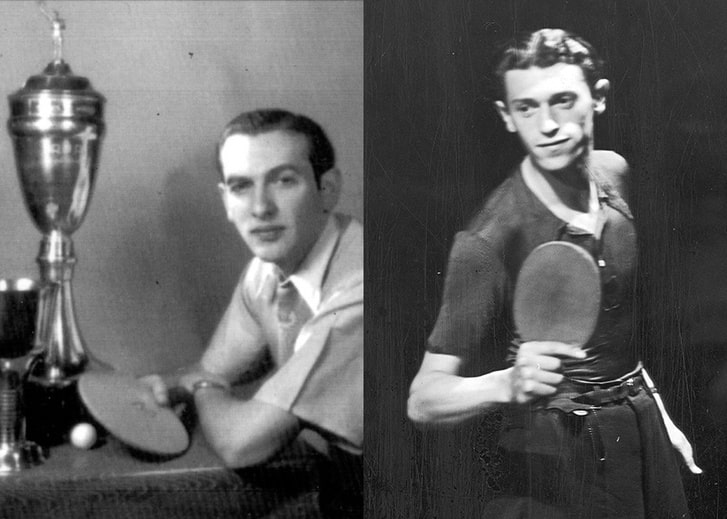 Farkas Paneth and his Polish adversary, Alojzy Ehrlich, at the 1936 World Championship in Prague. Their game lasted for 4 hours and 30 minutes, because both players chose a passive and defensive strategy. In this game, the first exchange took 2 hours and 12 minutes, and was included in the Book of Records for its length. The judge had to be replaced after 85 minutes, because his neck went stiff. Image: index.hu.
Paneth's teammate, Vasile Marin Goldberger, had a match with the French Michel Hagenauer, which lasted for 7 hours and 30 minutes and still ended in a tie, so the winner was chosen by drawing lots. After this World Championship, a time limit of 105 minutes for table tennis games was introduced. The female table tennis team of Haggibbor had great achievements as well. Kató Havas, Éva Weisz, and Alice Goldstein won the national championship in 1940.
Haggibbor players also excelled at tennis. In the 1930s, Anci Devecseri, Klári Schwartz, Lili Erdős, Marianne Heves, Endre Simon, Géza Erős and György Radó were among the best players in the country.
The Haggibbor Sports Club made water polo more popular, a sport which at that time was not very well-known yet. The Haggibbor sports centre was in the Western part of the city, in the current Grigorescu neighbourhood, and included a publicly accessible swimming pool.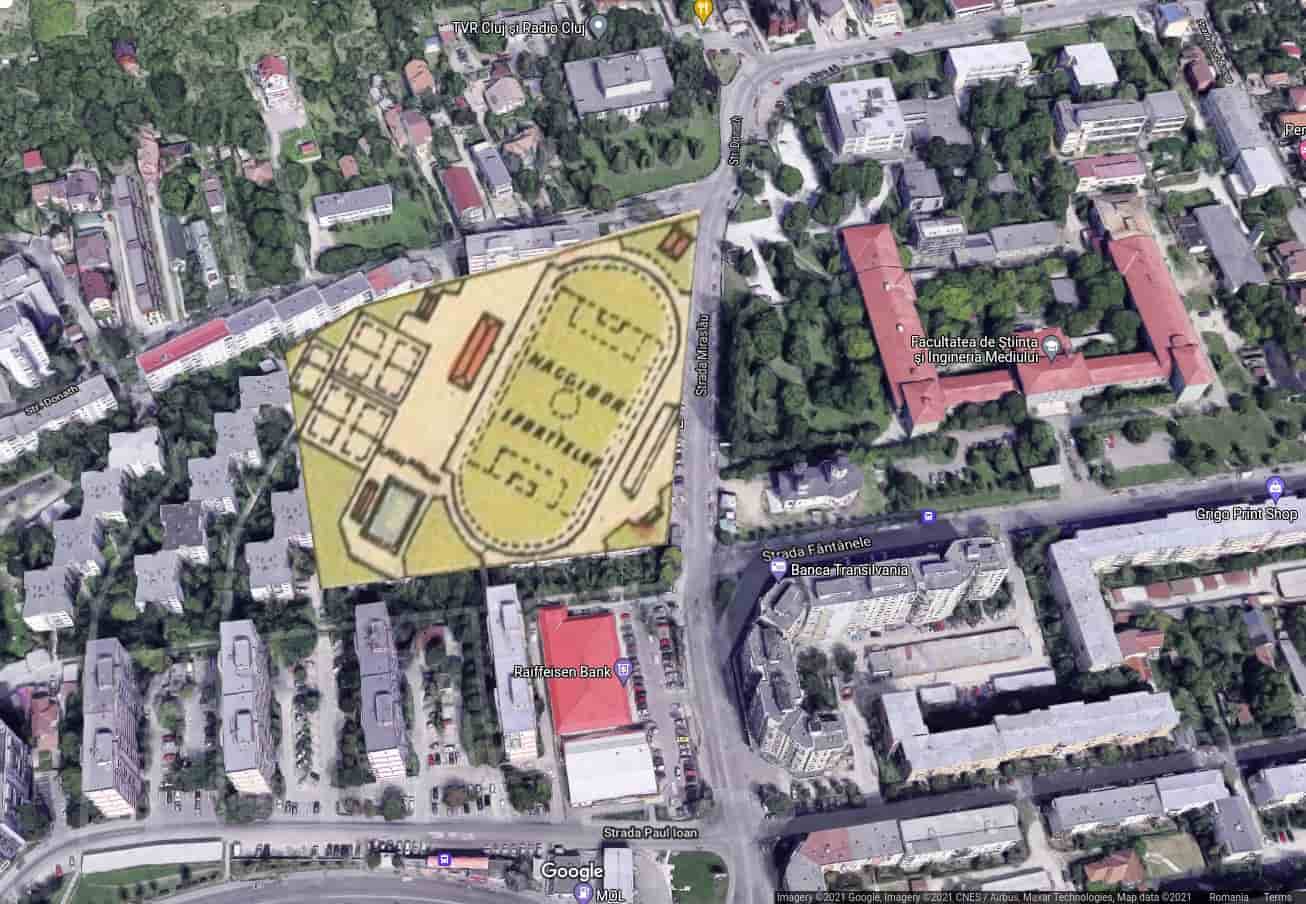 This map represents the Grigorescu neighbourhood in Cluj; the former Haggibbor sports centre is marked according to a map from 1942. Now, in its place there are blocks of flats and a commercial centre.
In 1922, Haggibbor joined the Maccabi World Union, an international society of Jewish athletes, which organised the events called Maccabbiah Games (sometimes referred to as "Jewish Olympics").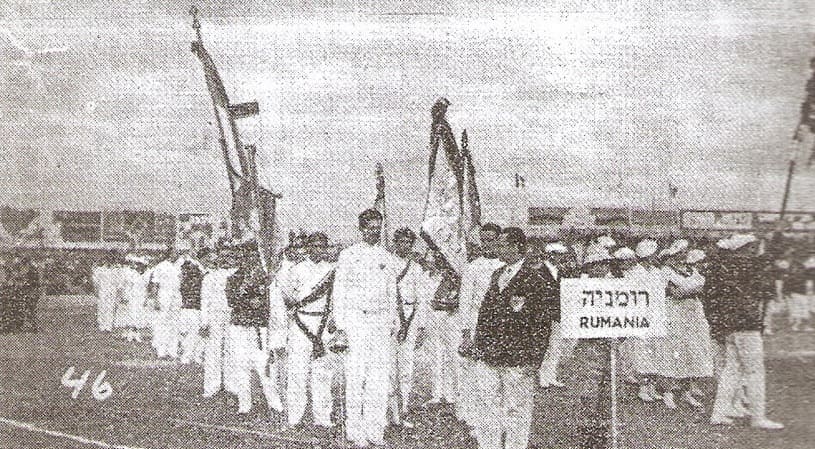 The team of Romania at the Maccabbiah Games in 1935, Tel Aviv. In this competition, members of the Haggibbor Sports Club won medals at fencing. The image was reproduced in an article about Haggibbor, published in Baabel magazine.
Anti-Semitism in sports and the dissolution of Haggibbor
For many of us, sports are a source of challenge, success, and joy, a form of personal development and growth, and, last but not least, a field where we can find many inspiring examples of fair play. Therefore, we like to believe that in sports we are all equal, we respect each other and there is no space for hate or discrimination. Unfortunately, the reality is not always like that. In spite of the athletes' outstanding achievements and of the club's contribution to the development of sports infrastructure in Cluj, Haggibbor was the victim of many anti-Semitic attacks.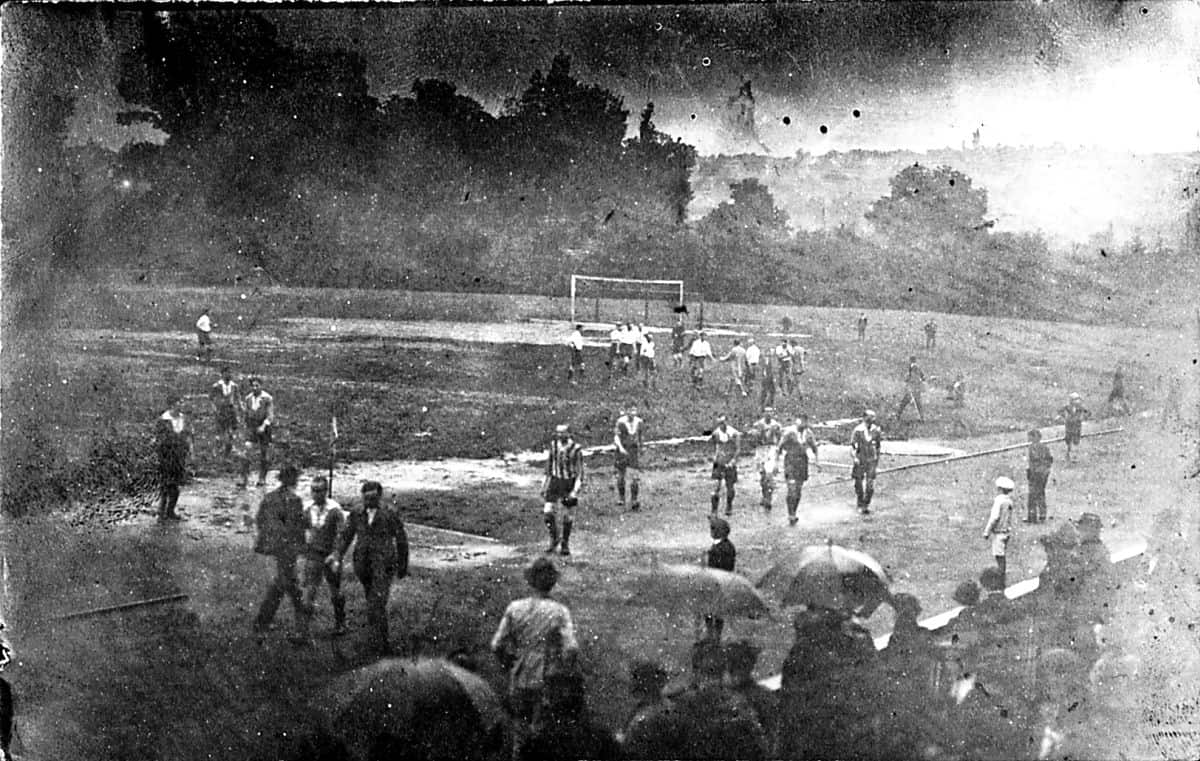 An example of anti-Semitism at a sporting event from 1921: this photograph was taken at a game between Haggibbor and Kolozsvári Atlétikai Club. Haggibbor players left the pitch at half time, because KAC fans shouted anti-Semitic slogans at them. Sports history confirms that Haggibbor won the local championship in 1921 but, nevertheless, they were stripped of the title. Image: Archive of Elek Szathmáry, a goalkeeper from Cluj.
It is tragic that discrimination and anti-Semitism were permitted in sports and often even backed by the law in the 1930s and 1940s. According to a law from 1940, a sports club in Romania could only function if the majority of the members consisted of Romanian Christian men. Therefore, Haggibbor lost its official status as a club, as well as several rights they had before. The situation worsened once Northern Transylvania was again united with Hungary, where anti-Semitic laws were even harsher and, after 1941, did not allow Jewish people to practice sports publicly. Then, the Haggibbor Club was closed. During WWII, in Romania, Jewish people could not participate in sports competitions, and sometimes it was forbidden for them to enter sports centres altogether.
After WWII, the memory of the Haggibbor Sports Club was kept alive by former members and their descendants. Those of them who emigrated to Israel and the USA founded sports clubs there with the same name.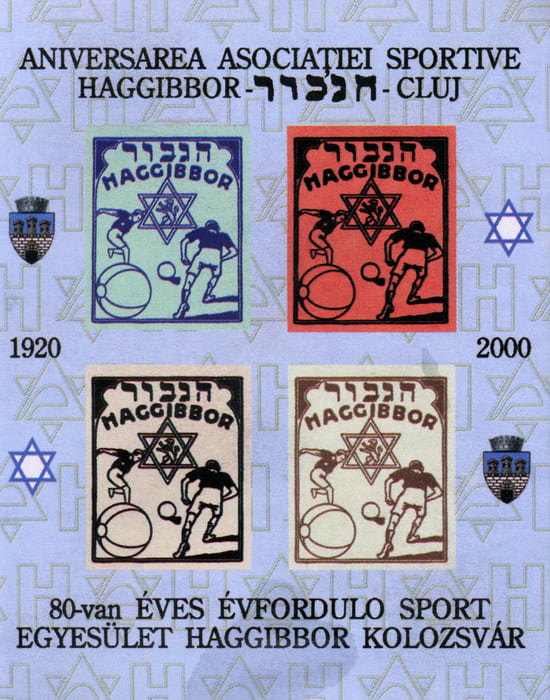 Stamps issued in Israel for the 80th anniversary of the founding of the Haggibbor Sports Club.