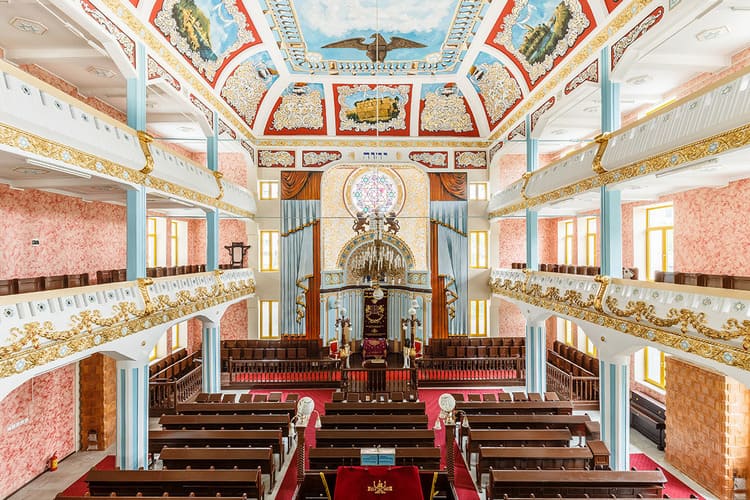 The Craftsmen's Temple in Galați
Galați has been an important Jewish centre in Moldova since the late sixteenth century. With the progressive growth of the Jewish population in the nineteenth and the first half of the twentieth centuries, several prayer houses and synagogues were built in the city. Thus, between 1938 and 1940, Galați had no less than 28 Jewish places of worship, many of which were built by guilds such as blacksmiths, coachmen, merchants, tailors, handlers, and so on.
Unfortunately, all of the synagogues were destroyed by earthquakes, WWII bombings, and communist-era urban redevelopment, with the exception of the Jewish Craftsmen Society's Temple, also known as the Craftsmen's Temple.
The Craftsmen's Temple, on 7-11 Dornei Street, is an imposing synagogue that was dedicated on August 11, 1896. It was constructed on the site of a former prayer house from 1806, using funds raised by the Jewish Craftsmen Society in Galați as well as volunteer labour from members of the community. In response to the increasing number of believers, reconstruction work began in 1925 and was completed in August 1929. The new structure could accommodate 250 people.
The Craftsmen's Temple was completely renovated in the 2000s with the help of foreign and local donations, and it reopened in 2014. The interior of the synagogue is striking with its baroque decorations, women's galleries resembling theatre loggias, and light and bright colours.
The Romanian Synagogue Documentation Project
Photo credits: © Daniel Gruenfeld, Oliver Beck Assistant